The Practice is currently able to register new patients within our authorised practice boundaries as shown on the map below. This area covers Otley, Bramhope, Pool and Arthington in the Leeds metropolitan district as well as Weston, Askwith, Huby, and Fewston in Harrogate District.
The blue line denotes the "Inner" boundary. This is the area that we can accept new patients.
The "Outer" boundary denoted by the red line, defines a wider area for patients currently at the Practice who then move beyond the "Inner" blue boundary but stay within the "Outer" (red) boundary.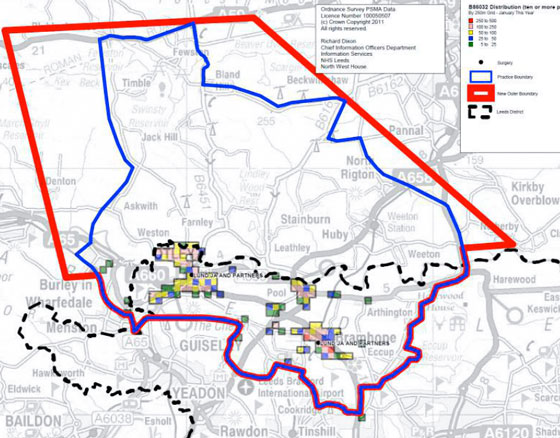 Chevin Medical Practice is proud to be a Safe Surgery.
Everyone living in the UK is entitled to register and consult with a GP. It means we can prevent and treat illness early and create a healthier society for everyone.
We recognise the barriers to healthcare access exist, particularly for migrants in vulnerable circumstances, and believe that small changes in practice can make a difference, ensuring that lack of ID or proof of address, immigration status or language are not barriers to patient registration. We are willing to lead by example and work to ensure that nobody in our community is excluded.
For more info on this Health Inclusion Initiative please visit https://www.doctorsoftheworld.org.uk/safesurgeries/
To register, please follow these simple steps:
Download and complete an NHS Family Doctors Services Registration form (

GMS1.pdf

) and ourNew Patient Registration form or pick-up copies of these from a Surgery Reception.
Bring the completed forms to a Surgery Reception together with two forms of documentation to validate your identity and address details. One must be photographic ID (e.g. passport, drivers' licence), whilst the second should provide proof of address (e.g. a recent utility bill or rent book).
For continuity of care, please attach a repeats list of your medication from previous surgery
You can now be registered as a patient at the Practice. Although you will be registered with a named GP, you are free to see any of the doctors or nurses.
Once you have been accepted as a patient your medical records will be transferred to us and you can begin to use our services. It can sometimes take up to three months to receive notes from your previous practice and it would be helpful if you could inform them that you are moving to us.
Finally, as part of our ambition to maximise our use of technology where possible, we would ask that you sign-up for online services when you register to make your interactions with the surgery as easy as possible.