Home
Welcome to Chevin Medical Practice
We are a large training General Practice with three surgeries, providing a range of primary healthcare services to over 19,000 patients living in Otley, Bramhope, Pool and surrounding areas.
This website provides useful information about us and how to access our services in the most appropriate way for your needs.
Getting in touch by telephone
Please be aware we are experiencing a very high volume of calls. Where possible please avoid calling at peak times which are normally between at 8:00am and 10:00am every morning.
If you are calling regarding a routine matter that doesn't require medical attention on the day (blood tests results, booking routine appointments like GP follow up appointments or annual reviews), please call us after 2pm. If you require medical attention on that day, please wait to speak to Reception.
This way you can help us to direct you to the right person and get medical attention when you need it. Thank you for your understanding during these unprecedented times.
Getting in touch in person
You may call in to any of our 3 surgeries in person during opening hours (8am to 6pm, Monday to Friday) where a member of our friendly Reception Team will be happy to help you.
The surgeries are located here:
Bridge Street
Otley
LS21 1BQ
Charles Street
Otley
LS21 1BJ
Tredgold Crescent
Bramhope
LS16 9BR
Getting in touch online
Instead of ringing us you can now contact us via Accurx using your PC, Tablet or Smartphone. This system replaces eConsult. If you need to order your prescription or have an admin or medical question you need answering click the Accurx link below.This short online form is the quickest and simplest way for the majority of our patients to access our clinical team for assistance. Our practice phone lines remain open for anyone with accessibility needs who might find difficulty completing this form. Please do not use this online form for urgent or emergency requests. The submitted forms will only be read during office hours. The forms will not be read on the weekends (Saturdays and Sundays) or on bank holidays. They will not be read Monday-Friday between the hours of 1800 - 0900. Please contact 111 during out of hours or 999 incase of an emergency.
Focus of the Month - June
Focus of the Month - Carers
National Carers Week is an annual campaign to raise awareness of caring, highlight the challenges unpaid carers face and recognise the contribution they make to families and communities throughout the UK. It also helps people who don't think of themselves as having caring responsibilities to identify as carers and access much-needed support.
The campaign is brought to life by thousands of individuals and organisations who come together to provide support for carers, run activities, highlight the vital role carers play in our communities and draw attention to just how important caring is.
see the links below for more info.
National Carers Week - 2023 | NICS Well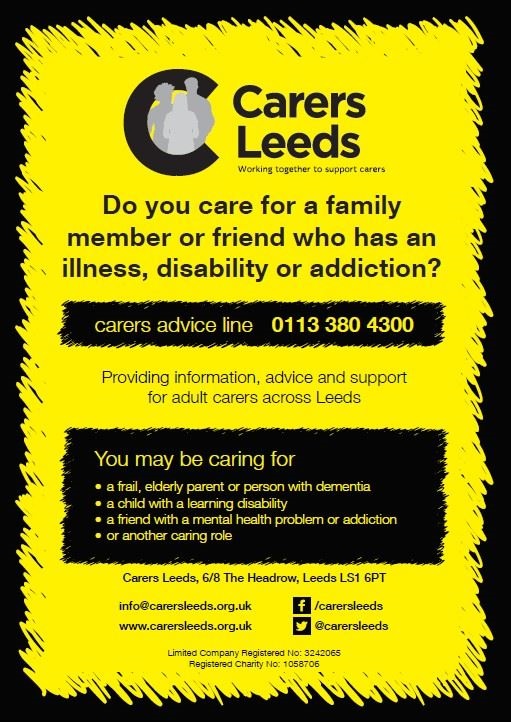 Charles Street Car Park
Changes to Charles Street car park from mid-February.
UPDATE - CAR PARKING CHARGES
PLEASE NOTE:
FROM MONDAY 24TH APRIL THE FREE 90 MINUTES FOR PATIENTS WILL BE REDUCED TO 60 MINUTES.
The car parking charges will come into effect from Monday 6th March, patients will be able to park free of charge for 60 minutes then after that charges will apply, these will be displayed clearly on boards on site and payable by phone.
Increasingly we are experiencing misuse of our patient car park in the form of people using the patient car parking spaces to visit Otley town centre or as a place to park whilst at work, this is resulting in patients being unable to park for their appointmentsb  as well as inconsiderate parking creating safety issues. The car park is also used as a gathering place on a night  for criminal activity. The continued use on weekends by shoppers is taking a heavy toll on the carpark surface and for various reasons we can only use a top surface of gravel to maintain it.
In line with many other private car parks experiencing similar issues, we have  engaged a parking management company who are  installing cameras  (which automatically register number plates)  and introducing  parking charges  for non-patient use to help with the considerable maintenance and resurfacing costs. If you are attending an appointment at the surgery these restrictions should not affect you  and  a full explanation of the restrictions will be displayed on signs in the car park. There will be leaflets with further information available in reception.
Those who continue to use the car park for non-surgery use will then be contributing fairly to the upkeep of the carpark and we anticipate this will see a reduction in that use and therefore a safer more convenient and continued free service for our patients.
Travel Vaccine information
Due to excessive demands for normal health appointments with our Nursing Team, we can no longer provide travel advice. You can obtain this from a private travel clinic (www.masta-travel-health.com).
If you are planning a trip abroad and think you require any vaccinations relating to foreign travel, please use the website Travel Health Pro (www.travelhealthpro.org.uk) to determine what vaccinations you are required / advised to have and Fit for Travel (www.fitfortravel.nhs.uk) for up-to-date travel advice for your destination. This will include which countries and areas within countries you are visiting.
If you need your vaccination records, patients registered at Chevin Medical Practice can access these through online patient access or call into the Practice to request a printed copy.
The only free travel vaccinations included by the NHS (i.e. the only vaccines we administer) are below (dependent on both appointment and vaccine availability – please allow at least 6 weeks before your intended trip):
Polio, Diphtheria and Tetanus booster (3 in 1 vaccine) – 10 years protection
Hepatitis A – 25 years protection after 2 doses
Typhoid fever – 3 years protection
Cholera (only if considered high risk)
These vaccines are free because they protect against diseases thought to represent the greatest risk to public health if they were brought into the country.
If you have any further queries, please speak to a member of the Reception Team.
COVID & FLU Clinics
We are now providing Covid boosters for patients aged 75 and over at our Bridge Street surgery.
We will be contacting all patients by phone or text when you become eligible, so please do not call the surgery.
The next clinic will be held on the 8th June.
Community Pharmacist Consultation Service Launch
GP CPCS provides a mechanism for patients to be referred by general practice to community pharmacy for minor illness. Using this new service can help alleviate pressure on GP appointments by harnessing the skills and knowledge of community pharmacists to treat a range of minor illnesses and allowing GPs to focus on more complex patients. The service gives a patient a same-day appointment in a community pharmacy, either face to face or remotely.
Please note our Reception team may triage your call and make a digital referral to a convenient pharmacy where you will receive relevant treatment and advice on the same day.
Prescription Requests
Please note we are unable to take prescription requests over the phone or via email. Please order your prescriptions through System Online/NHS App or alternatively your pharmacy may be able to assist you with ordering this.
If you are not registered for System Online speak to reception who will be able to help you to register.
Find your NHS Number
You can use this service https://www.nhs.uk/nhs-services/online-services/find-nhs-number/ to get your NHS number.
Your NHS number is a 10 digit number found on any letter you receive from the NHS.
You do not need to know your NHS number to use NHS services, but it can be useful to have it.
This service is for anyone living in England who has forgotten or does not know their NHS number.
NHS & Private Digital Hearing Aids
NHS & Private Digital Hearing Aids are now available at Chevin Medical Practice.
Latest digital technology
3 year follow-up and servicing
Batteries and parts from your local surgery
Aim to be given hearing aids at first appointment
Hearing test and fitting at our Bramhope Surgery
If you've had your NHS hearing aids for more than 3 years, you may be eligible for new ones

Ask your GP for a referral or speak to Reception for more information.